Girls Grom Jam & Skate Like a Girl SF Bay ...

Skate Like a Girl Wheels of Fortune 8

[Skate] Lizzie Armanto – Fire Part
Skate

[Snow] Powanoia: Substance Formally Known as Po...
Snow


[Skate] Candy Jacobs – Streets of Malaga
Skate


[Skate] Fabiana Delfino – Tuesday Night
Skate


The Progression Sessions Chile 2016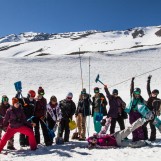 2016 SLS Nike SB Super Crown Women's Divi...

Girlz Nite Out LA + Quit Your Day Job World Pre...

Bay Area Girls Skate Sessions @ Fremont September

Chickflip Bowl Series 2016

Vans Park Series Women's Championships Ma...

Girls Week at Element Skate Camp 2016
Featured Channels

WANT TO BE FEATURED ON MAHFIA.TV?
Submit your shred photos, vids or events to be featured on MAHFIA.TV!